The buzz is building. The Great American Steamboat Company is now open for business – as of September 30 – with cruises beginning in April, 2012. Jeff Krida and company are bringing back the great sternwheeler, the American Queen. Jeff is former CEO and President of Cruise West and Delta Queen Steamboat Company. Corporate offices are in downtown Memphis.
The marketing roadshow is making the rounds of major cities as we speak. A breakfast seminar reaches our mutual hometown on November 14, for which I have registered. Webinars are also currently available online.
The hardware –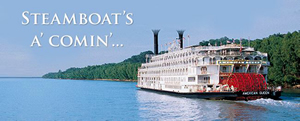 Built in 1995, the metal hulled* American Queen is probably the largest steamboat ever built, carrying over 400 passengers in over 200 cabins. She is currently undergoing refurbishment in a shipyard in Louisiana. (*The SOLAS act prohibits wooden hulled boats carrying more than 50 passengers from sailing overnight cruises. An exemption to that act expired in 2007 and is not likely to be extended.)
What's in it for us? –
Base commission is pegged at 10%. And, if the marketing materials are any indication, this should turn out to be a quality product. However, for market savvy travel agents the question is, who exactly is the target customer? Hopefully marketing kits for agents are in the works that will help narrow the focus. With average per diems in the $400 range, I don't think this product is intended for the Branson 'all-you-can-eat buffet with Hee-Haw jokes' crowd. It's a bit more upscale.
There is a group bonus program that includes free tour conductor berths – beginning at one for ten paying passengers (five cabins). Additionally, earned points can be utilized to buy anything from transfers to cocktail parties to bonus commission. However, the promotional materials do not make clear exactly how one earns these 'bonus points'. Maybe it is based on the size of the group, date and length of sailing, etc.
Of the many selling points, which will one prove to be the top drawing card is yet unknown. Obviously there will be emphasis on River Lore and 'Twain-iana' (Mark, not Shania), plus theme cruises – Civil War battleground visits, steamboat races, Kentucky Derby events, etc.
Side Notes –
I did a double take at the term "Steamcoaches" in the online materials, thinking that providing steam powered motor coaches was taking the authenticity thing a bit too far. Turns out that it's the name given to conventionally powered motor coaches that follow the steamboat from port to port. Materials tout the benefits of having the same coach and driver in each port – but it might also be a convenient way for those who – deliberately or otherwise – miss a departure and need to catch up with the boat.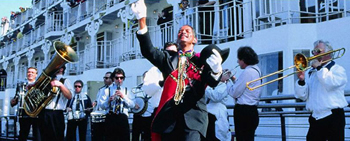 Notably, I missed seeing any reference to travel with grand kids in the promotional materials – something that may turn out to be of importance to the older, more affluent Boomer demographic.  Or, will little Huckleberry Fins and Becky Thatchers be encouraged to stay home – emphasizing an 'adults only' experience?  I'll be watching for hints one way or the other in future promotions.
Long term prospects –
How strong is the company's financials? Can they make a go of it with only one boat…and without benefit of on board gambling revenue, reduced labor costs and other economies of scale afforded foreign flagged cruise ships? The per diems are necessarily high compared to your garden variety ocean cruise – which will narrow the customer base considerably. However, if the quality and uniqueness of experience measures up – and initial 'buzz' on the social media networks is good – the price/value equation will not be an issue. Indeed, it will be a selling point.
Obviously this re-launch of overnight steamboat cruises has grabbed my interest and stimulated my imagination. I've put a teaser about Great American Steamboat Company on my website and dusted off my copy of "Life on the Mississippi". I'm counting the days until I can set foot on the re-born American Queen.