One island, two countries. The Dominican Republic and Haiti share the island of Hispaniola, the second largest island in the Caribbean. Unlike it's sister nation, however, the Dominican Republic has in recent years become one of the Caribbean's most sought after playgrounds. With hundreds of miles of beaches and reefs, there is no shortage of sand and sun for visitors to the Dominican Republic. Travelers there inevitably compare the sand texture to sugar, but the crystal blue waters are an equally attractive asset. The Dominican Republic's pristine beaches are slowly becoming the destination of choice for leisure travelers from the United States and Canada looking for real value and extraordinary all-inclusive vacations.
Things to Do
The Dominican Republic's beaches remain unspoiled Caribbean jewels. Almost 800 miles of coastline, and some of the most dazzling sand anywhere ensure vacationers will never have far to go to find great surf and a stretch of soft, white sand to enjoy.
Because the region is, in many respects, still in a very young stage of its development as a destination, crowds of vacationers are all on other islands in the region, giving DR beach goers space to enjoy themselves on the island's seashores.
This naturally calm, clear and warm water makes the DR an ideal location for water sports and swimming. The beaches are amazingly flat and very wide, easily walked or traveled on horseback, a favorite activity of many visitors. The giant expanse of white sand creates a relaxed feeling of spaciousness, never crowded. These gorgeous beaches are safe to swim year-round, and activities abound with pastimes like scuba diving, snorkeling, windsurfing, kayaking, water biking, sailing, beach volleyball or soccer.
Explore the capital and largest city, Santo Domingo, the oldest city in the "New World", to grasp interesting and fantastic historical information, as well as to see where the Dominican Republic is now as a people, culture and country.
On top of this, The Dominican Republic offers prime shopping for vacationers. One can partake of locally-produced goods like cigars, clothing, spices, the world-famous sugar (which, until recently, was responsible for most of the DR's revenue), and jewelry.
Local restaurants and activities like baseball games or musical events will also help to immerse you in the culture of this unique and engrossing half-island.
This Outpost is sponsored by: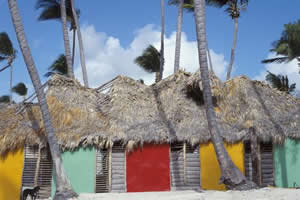 Punta Cana
Punta Cana has quickly emerged as the most popular beach destination. Here, many of the island's top beachfront resorts, amazing oceanfront scenery, and plenty of places for entertainment and activities have sprung into being. Numerous bars, restaurants, nightclubs, and shops dot a landscape where only a few years ago only small villages and hotels catering to a mostly European crowd existed.
On the easternmost tip of the island, Punta Cana is famous for its spectacular beaches and completely transparent waters, With over twenty miles of white sand and palm trees. Few other destinations in the Caribbean rival the area for its pristine, clean water and open air. Punta Cana's climate is dry and it rarely rains during the day, the arid flora like palm trees nevertheless flourishing all along the coast.
The influence of the early European crowds remains with a variety of hotel chains catering to a multinational crowd. North Americans have discovered Punta Cana, however, and now luxury all-inclusives with richly featured beach and pool facilities are found along the shore, edging right up to the water. There is a crisp, new feeling to the hotels and resorts here, and endless buffets. Punta Cana is a retreat for pure relaxation and enjoyment.
Punta Cana currently has 12 professional golf courses from designers such as Jack Nicklaus, P.B. Dye, Tom Fazio and Nick Faldo all within a short drive from each other. Several more are in the planning stages and it's clear that the Dominican Republic is on a headlong rush to become the primary gold destination of the Caribbean.
Travel Agents: You can use the content above on your own website or newsletter, compliments of the supplier sponsor above who has paid for your use of the materials. All you need to do is to follow the directions in the TRO Licensing Agreement. Also, please take a moment to check out the travel supplier that makes your use of this material possible.To use – Follow the procedure outlined in the TRO Licensing Agreement. Then, right click on this page and choose "View Source". Copy the HTML and paste the copied html into your own webpages or newsletter. You may remove advertising.