Looks can deceive. Rarely, for example, will Scenic appear as the lowest-priced operator when comparing river cruises on similar itineraries. In my story, What Scenic Does Differently In Bordeaux, Scenic's per diems for eight-day Bordeaux itineraries were considerably higher than AmaWaterways (by 28 percent), CroisiEurope (by 90 percent) and Viking (by 45 percent). On some sailings, Scenic's per diems in Bordeaux approach $700 per person, compared to Viking at $481 per day. At first, I thought, "Wow, Scenic is over-the-top," even though Uniworld came in higher (nearly $750 per day in staterooms that are a third smaller). A closer look at the numbers, however, reveals a much different picture than what I saw at first glance.
When comparing Bordeaux and other river cruises throughout Europe, you'll want to calculate the total cost, derived by looking at all the inclusions and special offers. For example, are there air incentives? The cost of air can have a huge impact to the bottom-line price of a river cruise.
On its website, Viking prices roundtrip economy air at $1,595 between select North American gateways and Bordeaux. That fare seems consistent with what I am able to find by searching Google Flights for May and June 2018 airfares between Atlanta and Bordeaux. Tacking on air at $1,595 per person adds an effective daily cost of nearly $200 per person for an eight-day Bordeaux cruise.
What happens to per diems when the current air offers are included? As of this writing, Viking is offering air for $695 per person for those who book before July 31, 2017. That's a savings of $900 per person, or about $112 per day for an eight-day cruise. Scenic and Uniworld have similar offers. For those who book by August 31, 2017, Scenic is extending free air for June, July and August 2018 sailings. Uniworld has the same offer but with a September 30, 2017 deadline. That's a savings of $1,595 per person, or about $200 per day.
You'll also want to calculate other incentives. Those pay their Scenic sailings in full by October 31,  2017, will save an additional $500 per couple on 8 to 10 day salings and $1,000 per couple on 11+ day sailings. Uniworld is offering a 10 percent savings for those who book before September 30, 2017. AmaWaterways is offering savings of up to $750 per person on select Bordeaux departures in 2018. These too have an impact on the bottom-line per diem.

Then there are the inclusions to consider. Does your river cruise include port charges, transfers (even if you book air on your own), tips (both on ship and on shore), complimentary beverages for the duration of your cruise, laundry?
In the chart below, I've tried to find the true, bottom-line per diems for river cruise companies operating in Bordeaux. I'm basing estimates on my own experiences. And while I am singling out Bordeaux river cruises, it's likely that the same pattern will hold true on other river cruises throughout Europe (I do intend to publish similar analysis for the Seine, Rhone/Saone, Douro, Rhine and Danube).
Comparing the Per Diems six lines down with the True Per Diems reveals a few surprises. As previously noted, without the inclusions and incentives, Scenic is priced higher than AmaWaterways, CroisiEurope and Viking – and slightly below Uniworld. Once the inclusions and incentives are calculated, though, Scenic comes in at only 13 percent higher than CroisiEurope and 5 percent higher than Viking. These are marginal price differences. On the other end, Scenic comes in at 7 percent lower than AmaWaterways and 8 percent lower than Uniworld. Of note is that Scenic is priced in a 205-square-foot balcony stateroom versus 140-square-feet non-balcony staterooms on CroisiEurope and Uniworld, 170-square-feet French balcony stateroom on AmaWaterways, and 205-square-feet balcony stateroom on Viking.
Bordeaux 2018 River Cruise Price Comparison Adjusted For Extras
Comparative spring 2018 pricing for Bordeaux eight-day river cruises in similar staterooms across the five operators in the Bordeaux region. I looked for staterooms of equivalent size and features, namely those with French balconies or step-out balconies. CroisiEurope's two ships in Bordeaux feature only 140-square-foot staterooms with fixed windows that open, which for some travelers, would suffice. Uniworld's River Royale also featured many fixed windows along with French balconies another staterooms. Prices were obtained from cruise company websites and may not reflect current incentives. Additional charges were estimated in some cases, such as for laundry and beverages, and obtained from the cruise company websites.
* Viking includes at least one shore excursion in each port of call, with optional excursions for a fee.
** To calculate the value of included roundtrip economy air, I used Viking's $1,595 per person published rate from select gateways in North America.
Scenic strives to be the most inclusive of all river cruise companies. The net effect of Scenic's inclusions and incentives is that the per diem for the Bordeaux sailing cited is $261 per person less than the published rate. So instead of $698 per day. It's $437 per day.
Gratuities (both on Scenic Diamond and on shore) and 24/7 bar are included as is laundry service (limited to one bag for most categories) and nearly everything else you can think of. Scheduled transfers are included, regardless of whether or not you book your air with Scenic. Staterooms feature butler service, room service (breakfast, lunch, dinner and snacks) and Scenic's Sun Lounge, which I wrote about on another Scenic cruise. See Scenic Cruises Jasper, Day 2, Focus On The Sun Lounge.
The complimentary minibar on my cruise was refreshed daily and included a can of Pringles (addictive), Manner's Original Neapolitan Wafers (equally addictive), five different types of spirits, soft drinks, bottled water, beer and wine. Scenic Diamond also featured five complimentary dining options, more than any other river cruise company.
Additionally, Scenic includes Scenic Tailormade, a GPS-based system for self-guided touring and on-board commentary; eBikes, electronically assisted bikes for independent and guided tours; Scenic Enrich, which the company bills as "unforgettable and exclusive once-in-a-lifetime experiences"; Scenic Sundowners, exclusive hosted cocktails in some of Europe's most beautiful locations; and Scenic Freechoice, a choice of "engaging activities throughout your journey."
Scenic's primary competitor in Bordeaux is Uniworld, which has a similar roster of inclusions, just not as broad. Uniworld includes scheduled transfers between the ship and airport, farm-to-table dining onboard, unlimited beverages – including premium spirits and wines, bicycles, Nordic walking sticks, gratuities, onboard fitness classes – like yoga and TRX – ship-wide Wi-Fi and exclusive shore excursions in each city. At $475 per person, Uniworld's Bordeaux per diems are also appealing, but with its larger staterooms and newer ship in Bordeaux, its broad range of inclusions and multiple dining venues, and its lower per diems, Scenic provides what for many will be the best value in France's gorgeous Aquitaine region.
---
An avid traveler and an award-winning journalist, Ralph Grizzle produces articles, video and photos that are inspiring and informative, personal and passionate. A journalism graduate of the University of North Carolina at Chapel Hill, Ralph has specialized in travel writing for more than two decades. To read more cruise and port reviews by Ralph Grizzle, visit his website at www.avidcruiser.com.
---
| | |
| --- | --- |
| Next in the webinar series… | |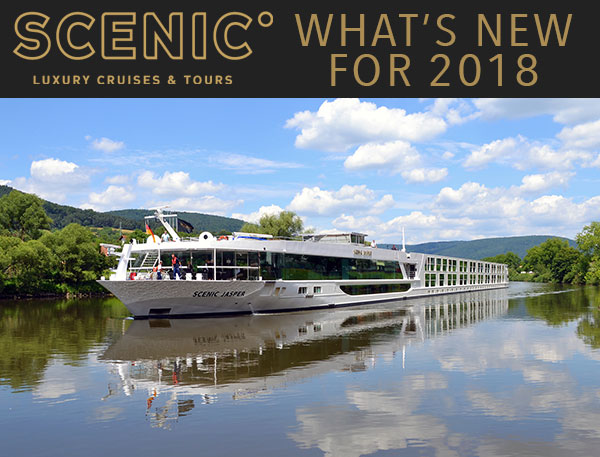 At Scenic, when we say all-inclusive, that's what we mean. Learn more about Scenic Luxury Cruises & Tours' 2018 all-inclusive river cruise offerings. From transfers and gratuities, exclusive Enrich, Freechoice and Tailormade excursions and even the mini-bar in our cabins, your clients won't have to worry about money at all.Voted Best River Cruise Shore Excursions by the discerning experts at Cruise Critic for 2016, learn more about what's new for 2018 and hear about our new brand promotions.

Sign up today to join our Regional Sales Manager, Randy Goodrich, to learn how you can build your business with Scenic Luxury Cruises & Tours.