Good morning, travel professionals! Travel Research Online has a bit of special news to share with you about a new project we have been working on for the past few weeks. TRO has partnered with seven podcasters to form the travel industry's first Podcast Network: Travmarket Media. Each podcast in the network engages with topics important to the travel professional community, providing navigation through the many and varied aspects of the business of travel consulting. 
Travmarket Media presents a varied line-up of podcast styles and personalities to round out The Travmarket Media Network. Our initial line up of podcasts will provide a selection of voices from across the travel industry and each of our show hosts bring their own mixture of spirit, humor and affection for the travel industry.
Podcasting is an exciting media opportunity for travel professionals and a logical next step for TRO. One of the reasons we chose to work with the podcast format is the portability of the medium. Listeners can indulge in a podcast while they do other activities as varied as working or walking their dog. They are convenient and will download to your computer or cell phone automatically. Travel professionals can easily sample a range of podcasts and, if they so choose, very easily decide to become a podcaster themselves. In fact, TRO will be adding a podcasting course to the Travmarket Media site, free of charge, next week!
Here is our current line-up with more great additions to come:
Avid Travel Host: Britton Frost
Listen and Subscribe
Avid Travel With Britton Frost is a weekly podcast that takes an in-depth look at all aspects of cruise travel. The aim of the 30-minute broadcast is to empower travel advisors with knowledge that allows them to help their clients make informed cruise vacation decisions. Whether your clients aspire to the oceans, rivers or the remote destinations that only expedition ships can take them to, Avid Travel With Britton Frost seeks to bolster your understanding and expertise on all things cruises.
Mike'd Up Marchev Host: Mike Marchev
Listen and Subscribe
Regardless of your desire, industry knowledge or willingness to succeed, as soon as you hang out your "Open For Business" sign you soon realize that there are a few pieces of the puzzle you may have overlooked. If it is true that nothing ever happens until you sell something, it becomes apparent that a little sales training coupled to a few consistent marketing strategies might have been a good idea.
Group Sales Power Hour Host: Stuart Cohen
Coming Soon!
Why does the travel advisor struggle to build a profitable, scalable, valuable group business model? Because they practice outdated, ineffective and old-school methods that yield diminishing returns in today's travel marketplace. Hosted by enter-trainer and group guru Stuart Cohen, hear the newer solutions, fresher ideas and proven strategies that show travel entrepreneurs how it's possible to grow group sale from good to great.
Hey Travelpreneur Host: Nicole Barrett
Listen and Subscribe
The Hey Travelpreneur podcast is a go-to for simple and relevant marketing tips & strategies for Travel Entrepreneurs to help them create a thriving travel business and personal brand. Nicole is the Founder of The Travelpreneur Academy and Espy Global. The Travelpreneur Academy helps Travel Agents attract, engage, and book their ideal clients using today's marketing practices through an online learning academy, live online trainings, and in person implementation workshops and retreats. Espy Global is a representation firm with a portfolio of boutique hotels and tour companies around the world including hotels and tour companies in Europe and the Caribbean.
Special Needs Travel Podcast Host: Dina Farmer
Listen and Subscribe
The Special Needs Travel Podcast has as its goal to give travel professionals and families of special needs persons the skills to achieve their travel dreams. Travel is for everyone and the SNTP wants to be your go-to resource in making it a reality. Subscribe to SNTP on your fav listening platform. Dina is a travel advisor, an IBCCES Certified Autism Travel Professional, and an Accessible Travel Advocate. I believe travel is for everyone. Whether planning special needs travel or podcasting about special needs travel Dina is motivated to help others achieve their travel dreams. Dina currently lives in Colorado Springs, CO but is dreaming of life by the beach.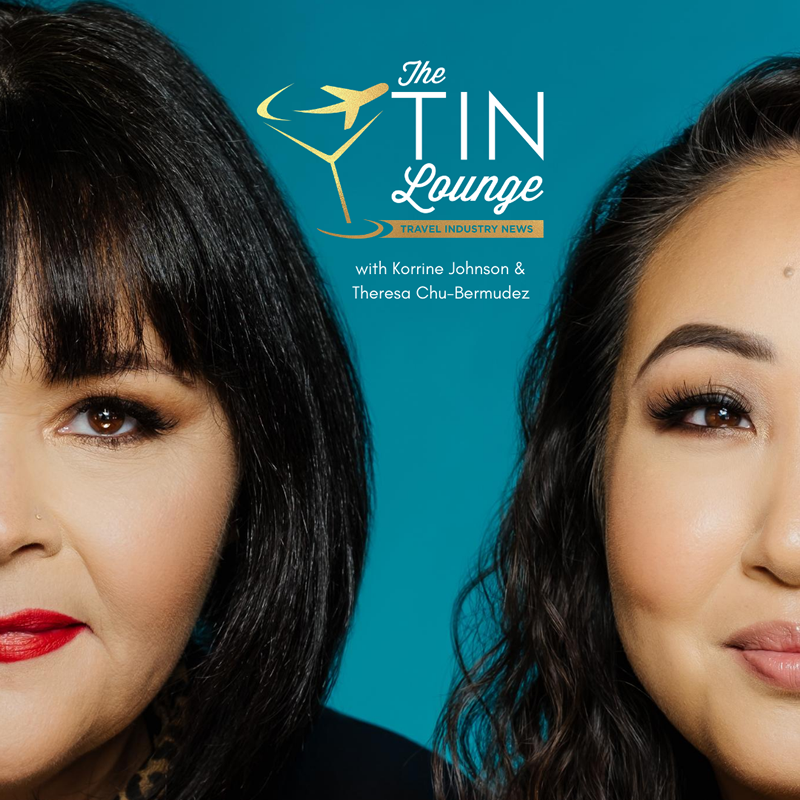 The Tin Lounge Hosts: Korrine Johnson & Theresa Chu-Bermudez
Listen and Subscribe
The TIN Lounge is the place for travel professionals to listen to the latest Travel Industry News. This podcast is the perfect way for busy travel professionals to stay informed while getting things done. With loads of chemistry between the hosts, The TIN Lounge presents the news in a way that is honest, unscripted and authentic. Launched originally as the result of the Covid-19 standstill, the two hosts wanted to demonstrate to other travel professionals that they weren't going through this alone. The show's following has grown quickly and the two have snagged guests appearances by some of the travel industry's leading advocates.
Travel Radio Podcast Host: Megan Chapa
Listen and Subscribe
Most good stories begin by happy accident – or in this chase, managed chaos. Working in the travel industry happily joined Megan Chapa's nomadic life as a military spouse and professional training planning large events. Megan began as an independent contractor travel professional in 2014 while living in Germany. Travel Radio Podcast started as a way for Megan to tell her travel agent friend's remarkable stories. It has evolved to become a research tool for agents and travelers alike seeking new destinations or niches of travel. Whether you are a travel professional or professional traveler Travel Radio Podcast will introduce you to places and people worth investing your time and resources in.
TRO Signal Host: Richard Earls and Others
Listen and Subscribe
TRO Signal navigates the "inner" workings of travel professionals devoting its time to the more elusive, emotional, and psychological aspects of being a travel advisor. It's all about the experience of travel consulting: sometimes rewarding, sometimes humbling, always challenging with incredible rewards as well as the trials, vicissitudes, and ups and downs, that are a part of the job. TRO Signal draws upon the wisdom of not only experts in the travel industry, but also from teachers and creative people outside our industry. TRO Signal explores the way travel expands our understanding of other people and cultures, reminding us of how alike we are.
Want to participate as a podcaster? Email us at: Podcasts@travmarketmedia.com
We want to hear from you and we look forward to this new journey with you!