There may be no more diverse destination on the planet than O'ahu.  Not only is the terrain amazingly varied – deserts, beaches and lush rainforests, mountains and oceans, deep valleys and soaring volcanoes – but the climates there range from sub-arctic to tropical.  The available activities are almost without end.
The culture is a mix of Polynesian, Asian, European and American.  But perhaps the most varied aspect of the Islands is the way that this tremendous confluence appeals to so many different types of people – young, old, active and beach lovers, there is something for everyone in O'ahu.  And all of this means one thing above all others – O'ahu is the world's greatest family destination.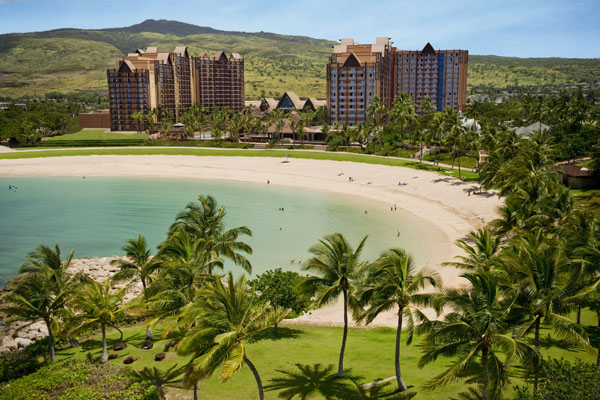 Most of the resorts on the Island offer family programs. The brand-new Aulani Resort, A Disney Resort & Spa was created by the people who know families best. Aulani is a new kind of paradise for families located in west O'ahu on a beautiful beachfront cove, it offers different kinds of fun for guests of every age. Kids live their dreams with their own state-of-the-art club, unique programming, fun with Disney Characters and teens have the freedom of activities designed just for them, plus the only Teen Spa in O'ahu while adults savor carefree escapes – like a beautiful spa, featuring the only outdoor hydrotherapy garden in O'ahu, romantic escapes, nearby golf and more. Families enjoy the best of everything with the resort's incredible lazy river, amazing pools, private snorkeling lagoon, and Disney entertainment. Some organized activities will involve the entire family while others will be offered to younger children. The resorts can offer most activities right from their concierge desks, but the smart traveler will arrange key activities with their travel agent prior to arrival to ensure availability.
What type of activities might a family find on O'ahu?  Let's first give due respect to the Aloha culture.  Deep in the roots of O'ahu's own way of being, family is an important concept.  Elders are respected and it is not at all unusual to find multi-generational families under the same roof.  A respect for the land and for the Hawai'ian culture is inherent with the native population. For these reasons and more, families find a warm welcome from the natives and the Islands reflect back a family culture.
There is no shortage of possibility on O'ahu.  There is beach time and golf, pools and beaches, biking swimming fishing sailing, surfing, hula, dude ranches, shopping, museums, whale watching, volcanoes, eco-tours and kayaking. A visit to Pearl Harbor is a sobering reminder of this island's place in America's history.
Use this article on your own website or in your agency newsletter! Provided free to the travel agent community by:
---
Did I mention shopping? From posh European to locally made, avant-garde to unspeakably tacky, Oahu's offerings are wide-ranging. Among the designer boutiques on Waikiki's Kalakaua Avenue plenty of booths hawk airbrushed T-shirts, gold by the inch, and tasteless aloha shirts. Instead, surprise your friends with patterned aloha shirts and sarongs. Buy bowls and baskets made of pandanus leaves or stock up on local Kona coffee. No trip is complete without purchasing a lei, and on Maunakea Street, O'ahu's finest floral creations go for as little as $3.50.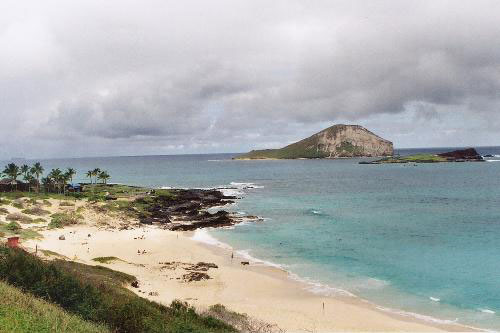 For dining, choose among chef-owned restaurants, neighborhood eateries, fast-food joints, ethnic spots, and restaurants in shopping malls. Don't miss a traditional luau on the beach. Savour succulent kalua pig (slow roasted underground) and fried rice, accompanied by cold lomi-lomi salmon (salad with salt-cured salmon). If you're up on the North Shore, visit a shrimp truck for the sweetest, juiciest shrimp.
Above all, O'ahu invites the visitor out-of-doors. Grandparents, parents and children alike will all have their own ways of enjoying the natural beauty and outdoor life of the Islands. Unlike destinations that confine visitors to privileged enclaves, O'ahu encourages meaningful encounters with the very people who give the land its human character.  Hawai'i's culture invites the family to engage it on a personal level: to attend a luau, to dance the hula, to experience the Polynesian way of life and to know Aloha from the moment the first lei is draped around necks on arrival.
Of course, islands are surrounded by water, and O'ahu's beaches have no equal.  Surfing lessons for the entire family are available from professional surf instructors. Or lay on the beach with kids, parents and grandparents all taking in the surf and waters on sand of nearly every color from darkest black to fine white powder. The water culture encompasses not only surfing, but scuba, snorkeling and even gentle exploration of amazing tidal pools, a favorite activity of visitors of every age. Kayaks are available to explore on either professionally or self – guided tours. For the truly adventuresome, windsurfing and zip lines are very popular. Hiking is a more rigorous activity but there are routes for every level of ability from gentle walks to rugged mountain trails.
O'ahu offers an experience so distinct from any other that many speak of the Islands as having changed their entire perspective on life. That is the stuff that memories are made of, and memories are the stuff that gives meaning to family travel.  If there is a better place for families on the planet, I don't know where it might be.
This article is one of TRO's Voyager series and is available for Travel Agent use in your newsletters and websites by registering with TRO and following this license agreement.